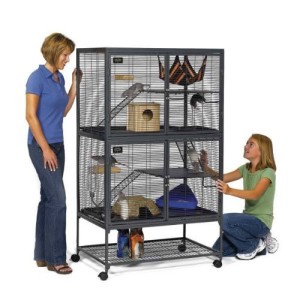 The Critter Nation cage from Midwest is the Taj Mahal of pet cages for small animals such as rats, ferrets, chinchillas, sugar gliders, hedgehogs, and degus.
CN cages are specifically designed with smaller pets in mind, so you'll never have to worry about them squeezing through bars or their smaller feet struggling with wire spacing that is too large.
Based on the wildly popular Ferret Nation design, the Critter Nation cage is built with smaller pets in mind and includes the following features:
Plastic trays that slide in and out for easy cleaning
Locking double doors with solid critter-proof latches
Casters for easy maneuverability
Adjustable levels and ramps to suit your own pets' needs
Advantages of a Critter Nation Cage
Midwest consulted with various pet groups and owners before designing their Critter Nation cages, and it really shows in the finished product, with many particular headaches in other pet cages addressed and solved.
The spacing of the wire mesh on ramps and sides of the cage are suitable for rats and other small critters and the grey hammertone finish is easy to clean and impervious to urine.
Cleaning is a breeze with Critter Nation cages, as the sturdy plastic trays slide out and the entire cage can be cleaned and wiped down in just a minute or two.
The latching full-length doors on the front provide quick and easy access, while the integrated shelf at the bottom is also a great place to store food, treats, bedding, and more.
The Critter Nation double can be configured so that the top two and bottom two levels are separate, in case you need to keep pets apart,
Both the single and double Critter Nation Cages are designed to accommodate exercise wheels, hammocks, houses, and toys.
Real Pet Owners Rave about Their Critter Nation Cage
Pet owners can be fanatical about what they love (and hate) and it's no surprise that Critter Nation scores great marks with owners.
Finding a rat cage and comfortable, safe home for smaller critters can be hard, as most cages are designed for larger animals.
Bar spacing must be smaller than in many pet store cages and the ability to adjust and change the configuration as pets such as rats or ferrets age or new additions arrive is critical.
CN cages can be configured in hundreds of different ways and the locking ramps make it easy to section off areas so that older pets are on the ground level while more active pets can roam in other parts.
The casters on the bottom of every Critter Nation cage are also invaluable for owners who like to frequently move their pets around.
The casters easily lock and unlock and the cage rolls smoothly if you like to move it from room to room of your home or to wheel it outdoors when it is cleaning time.
Best Place to Buy a Critter Nation Cage
Prices do fluctuate regularly for both the Critter Nation Single and Critter Nation Double cages but your best bet is below:
Critter Nation cages at Amazon: Amazon needs no introduction and their prices for Critter Nations are very competitive, with free shipping for Amazon Prime members.
MidWest makes Critter Nation cages and sells them at Amazon and other sites, so in most cases you're buying your cage essentially directly from the maker.